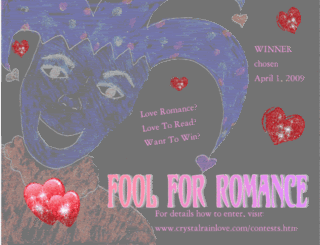 Paisley is happy to announce she has a prize or two up for grabs in this contest!!
More about the
Fool for Romance
contest from Crystal Rain's site:
THE CONTEST IS NOW OPEN !!! GET THOSE ENTRIES ROLLING IN!
Check out the prizes that each author has donated. All this cool stuff will go to one lucky winner whose name will be drawn and announced on April Fools Day (April 1st)!Wanna win? Of course you do. Scroll down to the QUESTIONS section. Each author has posted a question for you to find on their website (just click on their names to get to the websites). Answer the questions and send those answers in an email (along with your contact info) to: FOOLROMANCE@AOL.COM
GOOD LUCK!!!!