When my editor, Jennifer Haley, asked me if I'd like to take part in an anthology with 3 other writers and write a Miniature Rose based on my interpretation of Dan Fogelberg's classic, "Another Old Lang Syne".... well.... I thought about it for about three, no wait, make that one-and-a-half seconds. Of course I'd like to be part of something so cool! So, the line-up went like this:
Paisley Scott
,
Devon Gray
,
April Vine
and
Ana Aragón
.
All of our books will be released as individual novellas. Needless to say, I was flattered to be in such talented company!
BTW: Check out Devon's excellent
interview with editor Jennifer Haley
for more insight into this wonderful idea for four unique stories.
SUGAR SHACK
is my contribution and is available now from
The Wilder Roses
. My hero, Luke Mackenzie, owns a Maple farm in snowy Vermont. Catherine Bennett is a journalist for a travel magazine who was once engaged to Luke, but left after college graduation -- lured away by what lay outside the confines of her small New England town. Ten years have passed since they've seen each other... can they temper the feelings that still linger? Or will they pick up where they left off a decade ago?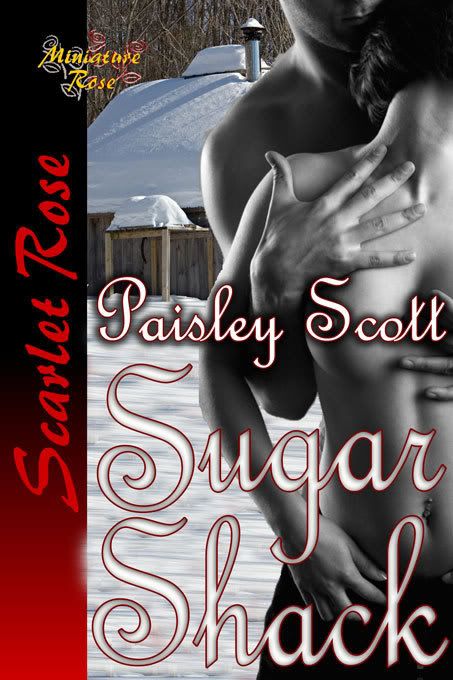 BLURB:
Ten years ago, Catherine Bennett said good-bye to her fiancé, Luke MacKenzie, and his maple farm in Vermont. She wanted to be somebody. She wanted to break out of a small town existence and live the city life. But the higher she flew, the less satisfied she was, in love and life. She had left her heart behind. And she'd never forgotten the sizzling sex with blond-haired, muscular Luke.

Now, when her job takes her back home to Vermont, old feelings flame to life. But is Luke still interested? Is he married? And can he ever forgive her for leaving him so long ago? Only one thing's for sure; there's still an attraction. And their reconciliation will burn hotter than the fireworks that light up the New Years Eve sky!
Here's an excerpt:
Standing not ten feet away was the man she used to dream about.
Still dreamed of
, she corrected. God, he looked good. Even better than she remembered. Tall and broad-shouldered, with a thick thatch of wind-tousled dark blond hair. Even from this distance, she could see the surprise in his maple-colored eyes.
A smile curved his lips before he could temper it. "Cat?"
The pet name had slipped out before he could check himself. She loved when he called her that. His husky voice made it sound like an endearing purr.
"Hi, Luke," she managed around a tongue that suddenly felt as dry as cotton. "You look good." He did look good. Hell, he looked better than good. He looked fan-damn-tastic. She fought the overwhelming impulse to run and throw her arms around him. Instead, she hugged herself and took a few tentative steps toward him.
He nodded, the gaze he leveled on her now more composed and guarded. "I'd be lying if I said I wasn't surprised to see you here after all this time."
Cutting straight to the chase was Luke's way. She couldn't help the small laugh that fell from her lips. "Always down to business, aren't you?"
He nodded. "Most of the time, yes. I'm not very good at games."
"I guess that depends on the game," she murmured. Unbidden, her mind conjured images of them role-playing in the barn's loft. She'd played the part of a Swedish milkmaid and he was a soldier, separated from his regiment, and who wandered onto her father's farm. The game began as nothing more than a silly escape, but turned into one of the hottest sexual experiences they'd ever shared. Even now, she couldn't smell hay without thinking of hot, sweaty, mind-blowing sex.
His eyes softened a bit, and she wondered if he joined her in the memory. Then he frowned. "I'm sorry for being blunt, but what are you doing here?"
Time to pay the piper. "Honestly, I was headed home for the holidays, but the weather wasn't willing to cooperate the entire way. I'm afraid I won't make it another two hours on the road. I was wondering if I could...I was hoping I could wait out the storm here. I would also like to apologize for being such an immature bitch ten years ago." There, she'd said it. It was now the elephant in the room and she'd put it there, unchained.
He looked surprised for a moment, then raised an eyebrow. "Wow." Pulling the suede work gloves off his hands, he shoved them into the back pocket of his jeans and crossed his arms across his chest, the wool-trimmed denim jacket bunching at the shoulders with his movements. "You wait this long to tell me something you could have told me if you'd returned even one of at least twenty phone messages I left for you over the past ten years?"
Warmth flamed in her veins and traveled swiftly up her neck to her face. "I apologize for that, too," she managed. "All I can say is I was a totally different person then."
"And now you've changed?" he asked, cocking his head.
She nodded. "I hope so, yes."
He took a deep breath and released it slowly, the heat of his exhale turning to frost as it hit the frigid air. "I happened to like the person you were."
A butterfly flapped to life in her tummy. "I've tried to improve on the older model." She took off her own gloves and wiped her palms on her coat before extending her right hand to him. "I hope we can work out some kind of friendship, Luke. I've missed you in my life."
He looked at her hand for a long moment, then stretched out his own to grasp hers. Electricity flowed at the contact and Catherine felt a warmth like no other when their palms touched.
"You're even more beautiful than I remember, Cat," he said, pulling her to him and embracing her tightly.
Burrowed against him, Catherine inhaled his scent deep into her lungs. God, he smelled so good. Leather, wood, earth, maple, everything unique to this man. He smelled of home. She nearly lost it in his arms. She wanted nothing more than to just be held by him and cry against his chest. But she had to be strong. She had to see if there was anything worth salvaging between them. And that would take time.